Food allergies can be pretty common. There are fourteen known primary allergens. However, people can have allergic reactions to specific food items without them being on that list. One of those food groups is, in fact, red meat allergy. This is because particular proteins are present in red meat that can trigger an allergic reaction. The chemical released by these proteins is called "histamine" and can cause a response of sorts when released into the bloodstream. Although allergic reactions to red meat are rare because once the meat is cooking, it kills off many of these proteins, it can still happen.
This article looks to make you aware of what happens if you are allergic, know if you are allergic, and what to do if you think you are allergic to red meat. Think of it as a pocket guide!
Red Meat Allergy Symptoms
As mentioned already, the chemical histamine is the driving force behind reactions to red meat. It dilates blood vessels across the body and can lead to headaches, rashes, indigestion or stomach cramps, dizziness, diarrhea, or vomiting. Symptoms can vary depending on how severely allergic you are to meat. Although uncommon in red meat situations, the severe or rapid spread of histamine can lead to anaphylactic shock, one of the most severe allergic reactions, causing fainting or cardiac arrest.
Typically, the reason behind an allergic reaction to red meat is due to a carbohydrate allergen named "alpha-gal". This allergen can develop at any stage in life and depends on blood type, other food allergies, or even a bite from a tick. Any of these factors can make us more sensitive to such an allergen and cause a reaction.
One point to be aware of is that an allergic reaction to "alpha-gal" can take up to five hours to occur. This means that you can have meat and not have any reaction until up to five hours later. This is in stark contrast with many food allergen reactions that happen immediately after consumption.
Alarmingly, red meat allergies are more common than you may think. A study taken by the University of Virginia evidenced that up to half of all unexplained food allergies may be attributed to a meat allergy in some way. They researched over 7,000 Americans and found the "alpha-gal" allergen present in 30-50% of people, with over 40% of those people having a mammalian meat reaction. Many of these reactions are as menial as a slight headache or itchiness, but they must be accounted for. Since this reaction can be common, it is important to get checked.
Also Read: 3 Great Alternatives to Red Meat
Alpha-gal Allergy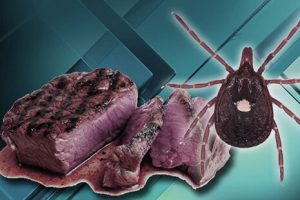 The most common type of red meat allergy is known as Alpha-Gal syndrome. It is caused by Lone Star ticks, which are found mainly in Texas in the US but are also scattered around the world. If bitten by one, it can trigger an immune system deficiency that can cause reactions to red meat or other forms of white meat and poultry.
Often, this deficiency can produce Alpha-Gal, which in turn, causes the issues highlighted above. Research now suggests that some people who have had frequent or unexplained anaphylactic reactions may be affected by the alpha-gal syndrome. There's no treatment other than avoiding red meat and other products made from mammals, however, there are a few ways that one can be tested for the allergen.
How to know if you are allergic
Although allergies to red meat are uncommon, there are ways of telling if you are allergic. For starters, the alpha-gal allergy is most common in blood types A and O. This is because the B antigen in both AB and B blood types gives more protection. So knowing what blood type you are may give you an indication or at least narrow down the field for you.
Typically, there are three ways of getting tested for the alpha-gal allergen:
You can avail of an allergen blood test, which detects antibodies known as IgE, which only shows up for specific types of meat and poultry. If a doctor finds this antibody, then you may have some intolerance.

You can take a skin prick test, where minuscule amounts of protein are placed beneath your skin to see if they trigger a reaction of sorts.

You can eliminate red meat from your diet to see if there is any improvement in your condition.
Treatment will very much depend on how severe the reaction is or was. However, the immediate course of action is always to avoid the food entirely. If you think you may be allergic to red meat, eliminate the food from your diet and consult a doctor for advice. It is always better to be safe than sorry.